ABOUT ITP SPORT
ITP Sport is Canada's only full service Safe Sport programming and consulting agency. We provide organizations of any size the opportunity to progress their Safe Sport efforts. Our foundational belief is that prevention is paramount in these efforts. We help fill the gaps between policies, governing body compliance, and the stark realities of what can happen on the field of play.
0
National and International clients
0
Years of combined team experience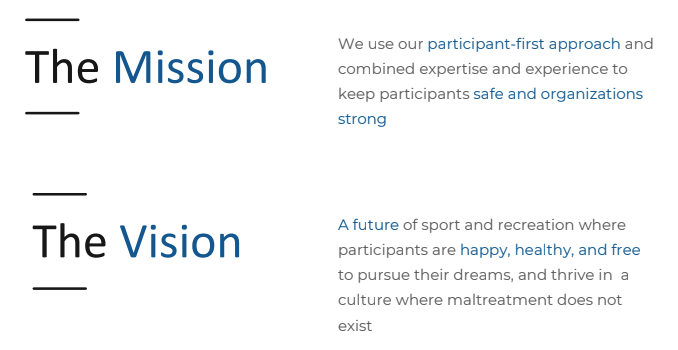 OUR VALUES
Participant Centered: The participant is at the heart and core of our decision-making.

Integrity: We uphold our high standards with all we do and who we are in this space.

Partnership: We work closely with expert advisors, government agencies, and have an inclusive approach to change.

Proactive over Reactive: We will shift the cycle through advocacy, education, and focusing on a culture change.

Passion: Because of our years of professional experience and our own personal experiences, we bring our hearts to work every day.
OUR FEATURED CLIENTS
We work with all organizational levels, from sport and recreation clubs to Professional Leagues.  Our team will customize Safe Sport programming and consulting offerings  based on the size, needs, and governance mandates of your organization.
TESTIMONIALS
"ITP provides professional, timely and sport sensitive support services in a cost effective fashion. Most importantly, ITP is staffed with professionals who understand the NSO culture and environment, which helps tremendously in determining effective paths and solutions to sensitive and impactful concerns"

Ian Moss
CEO, Gymnastics Canada
"Allison is s committed leader and advocate in Safesport and it has been my privilege to work with her. Her innovative work, blazing a trail to create solutions to keep athletes safe, is important and admirable."

Karen Bellehumeur
Bellehumeur Law
"Ilan's integrity drives his every day life, whether that is with family, friends or work. His passion is safety and performance. He has a firm belief that both are required to perform at your potential."

Lorainne Lafreniere
CEO, Coaching Association of Canada
"CAC had the privilege of working with ITP Sports on a safe sport review to better understand the coach perspective, which will inform our future work to support coaches and coach employees. ITP Sports is a reliable, professional and knowledgeable organization that is committed to supporting all sport organizations to enhancing their safe sport practices."

Isabelle Cayer
Director - Sport Safety, Coaching Association of Canada
"Rowing Canada believes that everyone has the right to enjoy sport in an inclusive environment free of abuse, harassment, or discrimination. ITP Sport has been a valued partner and a trusted advisor as we continue to develop our Safe Sport Strategy. They bring knowledge, experience, and a pragmatic approach to a difficult and important area of our work. I have no hesitation in recommending their services."

Terry Dillon
CEO, Rowing Canada
"As the CCES carried out its work in the area of maltreatment in sport over the past decade, and in particular our work around the development of the Universal Code of Conduct to Address Maltreatment in Sport (UCCMS) and the development of our proposal to independently administer the UCCMS, I had the opportunity on many occasions and in many settings to interact and work with Ilan. On every occasion I was struck by his practical knowledge of the issues, his professional and collaborative approach and his willingness to generously share his experience and insights."

Paul Melia
President & CEO, Canadian Centre for Ethics in Sport
"ITP Sport and Recreation was essential in helping the PGA of Canada develop our Code of Professional Conduct and Safe Sport Policy. The knowledge and expertise that they provided, as well as the professionalism that was shown throughout the entire process, made it an absolute pleasure to work with ITP Sport and Recreation day-in day-out."

Matt Allen
Chief Innovation Officer, PGA of Canada
"Ilan Yampolsky has a wealth of knowledge and experience in the safe sport business that puts him in a very select group in Canada. He has a calm, methodical, fact-based approach and access to many resources to assist NSOs, PTSOs, and clubs through the difficult process of navigating safe sport and conduct complaints. Canada Artistic Swimming and our Members have benefited greatly from Ilan's expertise as the world of safe and welcoming sport continues to evolve – we look forward to maintaining our working relationship with Ilan well into the future"

Jackie Buckingham
CEO, Canada Artistic Swimming